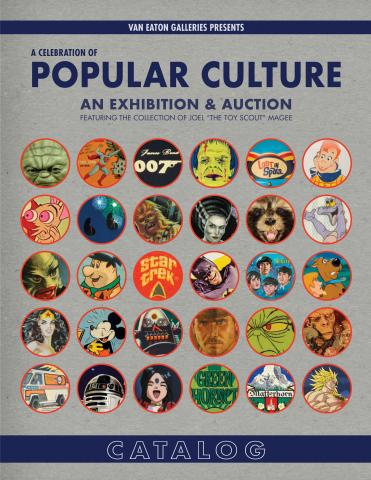 Production:
Studio:
Art Type:
Medium:
This is the limited edition hardcover version of the catalog catalog for our January 2021 "A Celebration of Popular Culture" auction. This gorgeous collectible reference catalog measures 11" x 8.5" and features lovely full-color imagery for over 650 items available in the auction, detailed across 250 pages.
THIS HARDCOVER CATALOG WAS PRINTED IN A STRICT LIMITED RUN OF ONLY 100 COPIES!
Van Eaton Galleries is proud to present A Celebration of Popular Culture, our latest exhibition and auction! This collection brings together nearly 700 items of popular culture history, representing some of the most nostalgic, scarcely seen, and most-prized artifacts of the last 60 years. Highlights of this auction include rare toys from "The Toy Scout," Joel Magee, including rare collectibles from Batman, Lost in Space, The Munsters, Bewitched, and much more! Other highlights come from the estate of famed artist and custom car designer Ed "Big Daddy" Roth, which include Ed Roth's personal Hot Wheels based on his "Beatnik Bandit" hot rod, as well as vintage model kits and slot cars based on his designs. Additionally, this collection includes rare original film posters from such classics as Creature from the Black Lagoon and Forbidden Planet, as well as collectibles from animated films and shows, Star Wars, James Bond, Walt Disney, Marvel, and props and collectibles from the Disney Parks.